"I Love You (30 Languages) Greeting Cards: Valentine's Day or Anniversary Card that says "I Love You" in 30 different languages. Feel free to change the message or the greeting to suit your own needs or occasion.Languages are: English, French (Je t'aime), Spanish (Te amo), Tagalog (Mahal kita), Chinese, Italian (Ti amo), Japanese, Hebrew, Yoruba (Mo ni fe), German, Portugese, Arabic, Korean, Swedish, Hawaiian, Polish, Thai, Swahili, Dutch, Finnish, Greek, Russian, Afrikaans, Catalan, Romanian, Latvian, Ndebele, Gaelic, Slovak and Czech."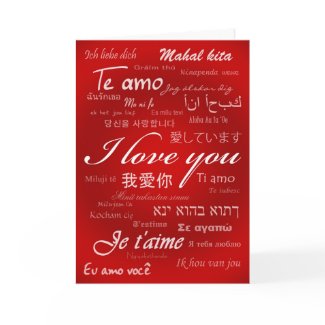 I Love You (30 Languages)
by
Holiday_Gear
Browse other
Anniversary Cards
A selection of personalized cards & gifts for Valentine's Day. These customizable Valentine's Day cards & gifts come in a variety of styles, from romantic to funny, traditional & classic to modern & chic. Many are fully customizable, so you can add your own text and images to give an unique, original & personal Valentine's Day card and gift to your loved one. There are customized Valentine's Day cards & gifts for him and for her, for your boyfriend or girlfriend, husband or wife, life partner or lover. Personalize a card and gift this Valentine's Day for the person you love.
Useful Shopping Links:
The latest Zazzle Deals & Discounts
Personalized & Custom Gifts
Clothing: T-Shirts & Hoodies, Kids & Baby Clothes
Electronics: Phone Cases, Speakers & Laptop Sleeves
Art & Posters: Wallart, Prints & Canvas Prints
My Online Gift Shops:
Original Language Gifts for People who Love Language
Fun Gifts for Fun People
Colorful Original Art Gifts